About Us
A Long Family Tradition of Raising Angus Cattle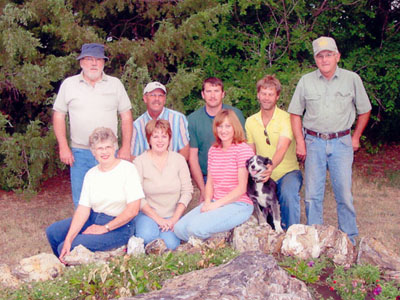 by Nikki Ebert
Western Livestock Reporter
Herd Reference Edition 2003
The Evenson family of Hettinger, North Dakota, started out with a dairy. Today, they run one of the largest registered Angus herds in the upper Midwest.
The Evenson family homesteaded in the Hettinger area in the early 1900s. Will Evenson first lived there in 1907 but moved away following the death of his first wife. However, in 1930 he returned. This was the first of four generations on the ranch. Ernest and Lillian Evenson purchased what is now Evenson Angus from A.O. Brown in 1945 and began raising dairy cattle. Not even a decade later, they bought 12 registered Angus cows from Henry Hanke Angus. This acquisition was the beginning of Ernest Evenson and Sons Registered Angus. Three years later, in 1955, the Evensons added 10 more cows to their Angus herd. In 1956, they dispersed their dairy herd and focused on increasing their numbers of registered cows. They also began using artificial insemination (AI) extensively in the early 60s.
In 1972, Ernest and Lillian sold the ranch to their sons, Bill and Wally, and the name was shortened to Evenson Angus. Eight years later, the ranch had its first production sale. Before 1980, cattle were sold mainly by private treaty.
In the late 90s, Evenson Angus introduced an ultrasound measurement program and began entering cattle in performance feed tests. Today, they also background some calves, feeding them to around 800 pounds.
The Evensons feed approximately 500 calves - 200 of their own and 300 they purchase. When they reach the 800 pound range, the calves are sold to be finished out.
Evenson Angus boasts 400 head of registered Angus cattle and approximately 150 head of commercial cows. They AI all theri females, with the exception of the two-year-olds and late-calving cows. Around 100 registered heifers are synchronized to calve February 1, and the early-calving cows are bred to calve February 10.
The Evensons do most of the work themselves. However, during high-volume times, they sometimes bring in a little extra help. In addition, Melissa and Howard Sadowsky and their family live on one of the Evenson's farms. Not only do they tend to cattle there, but Melissa helps with the AI program and helps check wells. Howard, who manages the Hettinger Farmer's Union Oil Company, helps Melissa keep an eye on the cattle. The Sadowskys have three children, Bailey, Hayden and Sidra.
During calving season, the cattle are watched around the clock. The Evensons, along with Melissa and Howard, take three-hour shifts through the night. The cows are calved out in a barn that has additional space to house the pairs until they can be moved to another barn.
Each year, Evenson Angus puts cattle on test for 150 days, at the end of which they are ultrasounded. The measurements are turned into the Angus Herd Improvement Records Program. In addition, all the bulls and replacement heifers are ultrasounded for carcass data.
Evenson Angus' production sale is the third Wednesday in March at the Lemmon Livestock Auction, Lemmon, South Dakota. They sell approximately 100 yearling bulls and 75 heifers. They also consign bulls to the North Dakota Bull Test Sale, which is the third Monday in April at the Stockman's Livestock Exchange in Dickinson, North Dakota.
Aside from the cattle, Evensons also farm approximately 11,000 acres, most of which is owned. Half of the farm ground is planted to grains and hay, and the other half is pasture. The Evensons raise wheat as their main crop, but they also plant corn, which is not only a cash crop but is also used to feed and make silage. Barley is another source of feed, and some oats and peas are combined for silage and hay.
Bill and Eleanora's daughter, Carrie, and her husband, Trevor Strand, have also become partners in the family business, along with Wally's son, Rodney. Carrie and Trevor's three children, Tyler, Ashley and Tanner, are involved as well.
Everyone at Evenson Angus has responsibility. Wally and Trevor look after the farmland, while Bill and Rodney concentrate on the cattle. The ladies take care of most of the office work and help wherever else they can.
It is this integrated family approach to management that has kept Evenson Angus moving forward since they made the jump from dairy men to raising registered Angus cattle nearly 50 years ago. And it is with determination and a strong belief in the merits of their breed that Evenson Angus will continue to grow.